Posted on
Posted in 1993, 2017, 24, 24yo, 409, 49%, Bottling, Campbeltown, Cask, Deal, Florentine, Florentine's, Private, Springbank, Twin, twin-deal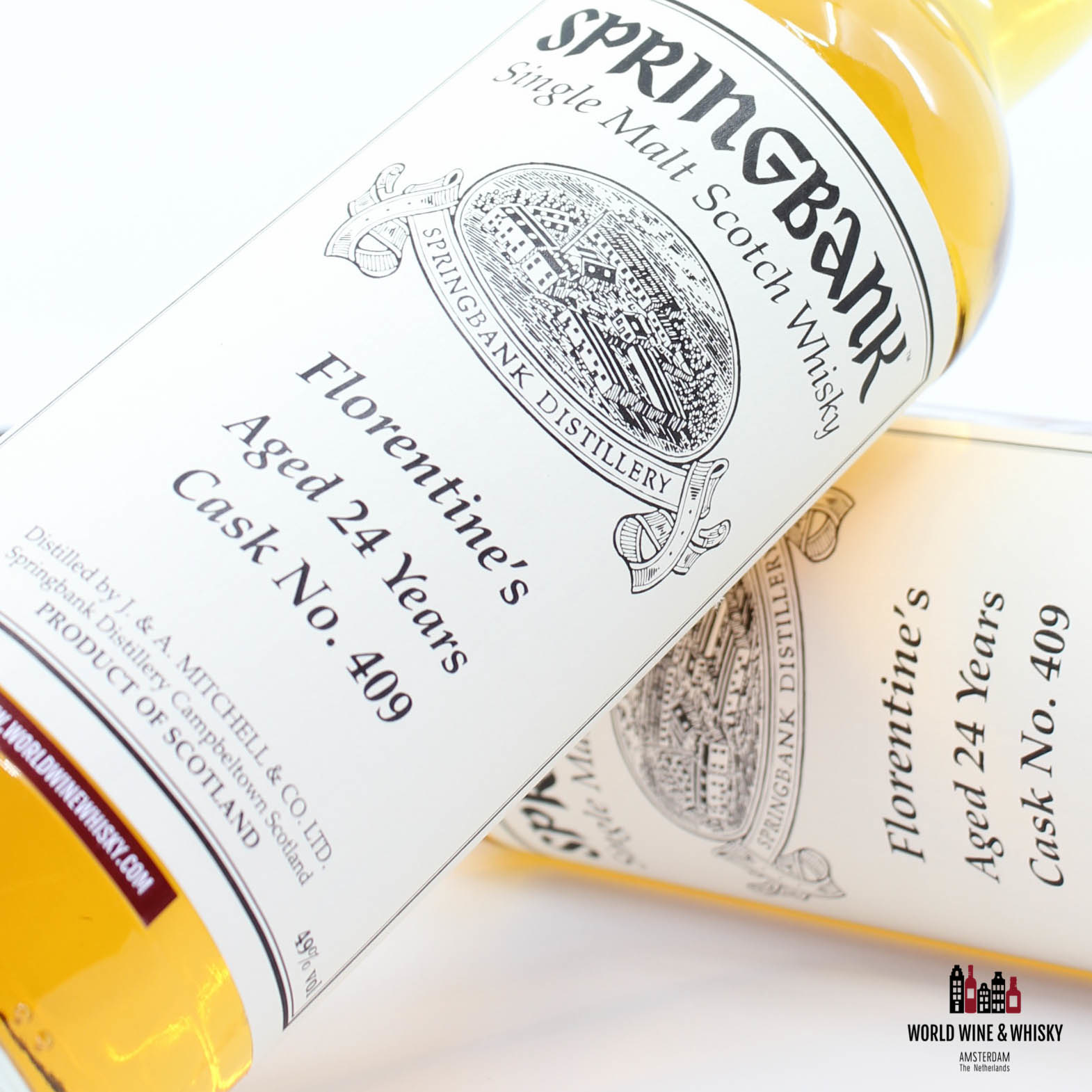 Because of the great weather we want to announce a special Springbank Twin-deal for limited time only. Until Friday the 19th of July (next week) we offer you a set of two bottles of Springbank 24 Years Old 1993 2017 Private Bottling Cask 409 Florentine's 49% for 499,99 euro instead of 550 euro! Single bottles are 275 euro each. Be sure to grab this deal before it ends!
"It was mid 1993. Florentine's uncle was awaiting his first niece. Back then, he lived in Scotland and enjoyed the beautiful surroundings. With his big passion for whisky, especially for the famous Springbank Distillery in Campbeltown, he decided to buy his future niece a very exclusive gift. From the day she was born, she would be the owner of the Springbank cask 409. However, she wouldn't be allowed to have access to the cask until she turned 21 years old.
After the whisky was able to mature in the cask for 24 years, she decided to take further action with this unique product. In June 2017, the whisky was bottled with a personalized label, and was shipped to The Netherlands. From the total of 544 bottles, a small selection is now available for commercial purchase, so don't hesitate too long. Only a few bottles will be sold, the rest will be kept."
Springbank has ended its service of selling whisky casks to private customers in the late 90s. This is the reason why whiskies originated from this Private Bottling practice have become more popular these days; they are rare and unique!
* Expert rating 93+
* Limited offer
* We are the only provider who sells this unique Private Bottling of Springbank.
Link: https://www.worldwinewhisky.com/us/springbank-24-years-old-1993-2017-private-bottling.html.
#Springbank #SpringbankWhisky #SpringbankDistillery #SpringbankPrivateBottling #Springbank1993 #Springbank24 #Springbank24yo #SpringbankFlorentine #SpringbankFlorentines #PrivateBottling #SpringbankCask #Cask409 #Campbeltown #Campbeltownwhisky #SpringbankCampbeltown #RareWhisky